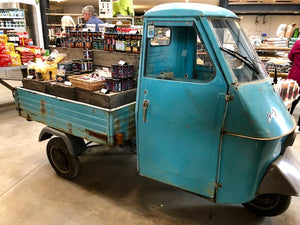 The Farm Stratford upon Avon
On Friday I did a tasting session at The Farm in Snitterfield on the outskirts of Stratford upon Avon. The Farm opened in April this year and is a unique food destination showcasing local Artisan produce as well as promoting wholesome, home grown and sustainable food. It was set up by two local families who have a passion for real food.
At The Farm you'll find a large artisan farm shop with a wide array of local producers like Ben's. They also have a butchers and fishmonger, baker, wine merchant, fermented foods, chilli farmer, chocolatier and florist on site. If you're feeling hungry, The Farm also has a café called Nourish, which produces all its own tasty food using fresh produce from the garden or locally sourced.
Kids will also love The Farm with its playground and fabulous educational programs such as den building, farm skills and crafting. This Summer, The Farm is also launching a new seasonal Cookery school as well adult courses such as gardening, cider making and jewellery crafting.
On the 3rd of August The Farm is holding its first Food Fest. Entry is free and there'll be lots of delicious food to eat and buy including my biltong and droewors. If you can't make the Food Fest don't worry, The Farm is open 7 days a week. If you live anywhere near Stratford and love food, then The Farm is a must visit!
---
4 comments