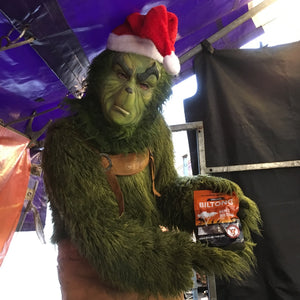 The Biltong Grinch
Once upon on a time in a town called Warwick there lived a famous biltong maker named Ben. Ben lived in a huge castle with his wife and two dogs and spent his days making delicious biltong and droewors for all the people of the land.
One Sunday Ben was selling his famous biltong and droewors at the Leamington Yuletide Market. It was a beautiful Winter's day and lots of local people were out and about doing their Christmas shopping and stocking up on Ben's delicious goodies.
Ben's wife was also at the market doing her Christmas shopping with their two dogs, Angus and Yasmin. She had just dropped off some lunch for Ben when out of nowhere the Biltong Grinch appeared and grabbed a handful of Ben's biltong.
Ben was stuck behind his stall and couldn't get out quick enough to give chase. The Biltong Grinch was getting away!
All looked lost until Angus, Ben's faithful dog, managed to shake off his lead and give chase. The Grinch ducked in and out between the stalls, with Angus in hot pursuit tracking the scent of the delicious biltong. The Grinch was fast, but Angus was faster and eventually he pounced on him, bringing him to the ground.
A nearby policeman who had heard the ruckus arrived on the scene. "You're nicked!", he exclaimed to the Biltong Grinch. "I give up, I give up!", cried the Biltong Grinch. "Just get this pesky dog to stop licking me!" As the policeman read the Biltong Grinch his rights, Ben arrived to find Angus devouring the biltong with his tail wagging triumphantly. Angus may have been a hero but he was a very naughty boy!
---
294 comments