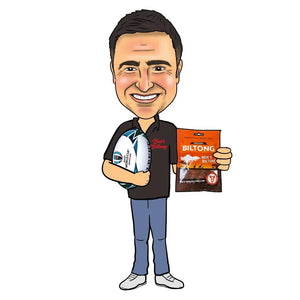 Rugby, rugby and more rugby!
I'm a big fan of rugby and am loving the Autumn Internationals that are happening at the moment. Next year is also going to be a huge Rugby year with the Six Nations in February/ March and the World Cup in September/ October.
 The Autumn Internationals so far have thrown up some close games. There are still three weeks to go, so let's hope the close games continue. If you've not seen my Facebook and Instagram, I'm running a little competition to predict the score in the last game on the 26th of November between England and South Africa. Correctly guess the score of this game and you could win yourself a £10 voucher to spend online or in Ben's Meat & Heat Emporium in Leamington. You've got nothing to lose, so why not give it a go!
Next year's World Cup is being held in France. England is in Pool D and has Japan, Argentina, Samoa & Chile. Fingers crossed we put up a good showing, make the finals and bring home the cup. South Africa is in Pool B and will be playing Ireland, Scotland, Tonga & Romania. It all kicks off on the 8th of September with the home nation, France, playing New Zealand – which should be a cracker of a game!
The physical demands on Rugby players during a game are huge. After a game you'll find many of them snacking on high protein foods to replenish their energy levels and repair muscles. Biltong is a perfect post-game snack because it is naturally very high in protein. It's also portable and durable, so it's an easy thing to throw into the sports bag.
 Even if you're not a rugby player you can still enjoy the benefits of biltong. It's the ideal snack to eat while watching the rugby because it not only tastes good but goes perfectly with a beer or two! With so much rugby on offer in the coming year, make sure you have a good supply of biltong from Ben's to see you through all the games.
---
1 comment