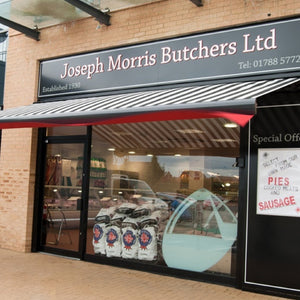 My Butcher - Joseph Morris Butchers
This week is National Butchers week, so I thought I'd share a bit of information about the fabulous butcher I use for my biltong and droewors. Joseph Morris Butchers are situated in Rugby and have been my butcher for a number of years. They never let me down with their meat quality and are a pleasure to deal with.
Joseph Morris Butchers are a family run business established in 1930 by Joseph Morris who set up a small shop in the village of South Kilworth in Leicestershire. As demand for quality meat grew, the business expanded and it is now in its fourth generation with the great grandsons of Joseph running shops in Rugby, South Kilworth and Wigston.
One of the reasons I use Joseph Morris Butchers for my meat is because all of their livestock is sourced from local farms. So, not only are they supporting the local farming community, but this also ensures consistently high-quality meat. Animal welfare is also one of their main priorities, so by sourcing locally, the travelling distances are short, minimising stress for the animals.
Joseph Morris Butchers have an excellent reputation in the area and provide many local restaurants with their meat. In 2019 the Rugby Store was nominated and put through as a finalist in the Meat Management Awards for Best Butcher Shop!
If you live near Rugby, South Kilworth and Wigston I can highly recommend paying them a visit for your meat. You can also enjoy their meat by buying my biltong and droewors 😉
---
1 comment