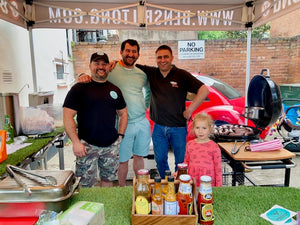 Ben's Meat & Heat Emporium turns 1!
On Saturday the 26th of June I celebrated the 1st birthday of Ben's Meat & Heat Emporium. Customers enjoyed boerewors rolls cooked on the braai by the awesome blogger, Braai Lad and our fantastic braai wood supplier, Let's braai. The braai was my way of saying thank you to all the fabulous customers who have supported me over the last year.
It was so good to see so many of my regular Emporium customers on the day as well as some new faces. It was also fantastic to see many of my South African customers meeting fellow ex-pats and having a chat.
The birthday bash was also a belated opening celebration, as due to the pandemic I wasn't able to hold one. I had intended to open the shop earlier in the year but due to the pandemic this was put on hold. When it became clear that the pandemic was here for the long term, I threw caution to the wind and opened the doors to Ben's Meat and Heat Emporium.
Opening during a pandemic last year was a big risk but I'd already leased the shop, begun fitting it out and ordered stock. My income was also reduced as I couldn't run my market stall and I didn't qualify for any government funding, so there was nothing to lose.
For those that haven't yet visited the shop, Ben's Meat & Heat Emporium stocks my full range of biltong and droewors and a large range of other South African snacks and alcohol. As I love of all things BBQ & chilli, the Emporium also a stocks a big selection of BBQ & chilli products including sauces, seasonings, rubs and chutneys and jams.
I also try to support other local businesses in the shop and stock quite a few products produced by other Warwickshire businesses. I have products from Leamington based Prices Spices, Shakespeare Seasonings in Stratford and Springfield Kitchen in Rugby to name a few.
Ben's Meat & Heat Emporium can be found in the basement of 29 Portland street in Leamington, CV32 5EY and is open on Fridays from 12pm-7pm and Saturdays from 10am-5pm. To keep up to date with what's happening in the shop, you can follow Ben's Meat and Heat on Facebook and Instagram.
---