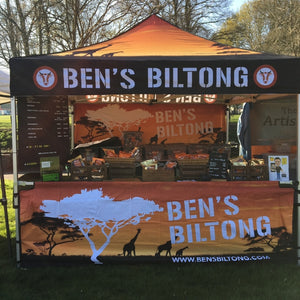 Ben's Biltong is back doing festivals!
I'm really looking forward to September as I'm back doing festivals and showcasing my range of biltong and droewors. After nearly two years of no festivals, thanks to the pandemic, I was at the Warwick Food Festival earlier this month, and it felt so good to be back! It was great seeing old customers again and introducing new people to my products. I now can't wait to attend more festivals over the coming months!
The first festival I'm heading to in September is Taste Bedford on the 4th & 5th. I've been to this one before and it's a fantastic event. It's being held at Russell Park in Bedford, alongside Bedford Runfest, and will showcase a diverse range of local food & drink. The best chefs and cooks in the area will also be attending and entertaining the crowds with live cookery demonstrations.
On the 11th & 12th of September I'll be a little closer to home at the Leamington Food Festival at the Pump Room Gardens. There are 110 exhibitors at the event this year offering a variety of delicious food & drink to enjoy onsite or takeaway, as well as live music, cookery demonstrations and a kids cookery school. If you're local this is one not to be missed!
A week later on the 18th & 19th, you'll find my stall at the Stratford-upon-Avon Food Festival for two days of festivities. You'll find over 100 awesome food & drink stalls along the High street, Henley street & bridge street, with over 50% being local producers. With live cookery demonstrations, hands on workshops and live music on both days, it's going to be another brilliant event!
I'm also scheduled to do the Melton Mowbray (East Midlands) Food Festival on the 1st & 2nd of October. Keep an eye on my social media for details on this one closer to the time.
If you're looking for a good day out then come along and support these festivals in the coming month. The organisers have worked really hard to get these events up and running safely and many of the stall holders have done it tough during the pandemic and would love your support. I hope to see you there!
---
1 comment