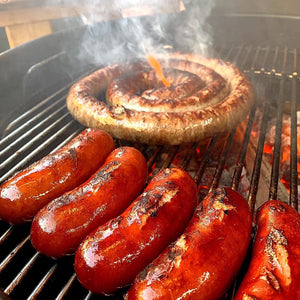 BBQ & Braai season is here!
Finally, the weather is changing and we're starting to see some beautiful spring days. If you haven't already, then it's time to fire up the BBQ or Braai and enjoy cooking and eating in the garden!
Lockdown restriction are also easing which means we can now meet up with a small group of family and friends outdoors. What could be better on a gorgeous sunny day than a few drinks in the garden with your loved ones and some delicious food cooked on the braai or barbie!
To help you with your outdoor cooking, I've now created a dedicated page on the Ben's Biltong website for all of my BBQ and Braai products. I've got a selection of delicious rubs & seasonings, sauces and also some embroidered cloths and aprons.
No matter what you're cooking, Ben's have a seasoning or rub to enhance the flavour of your meat. The Tubby Tom range is perfect for those that like their food hot and spicy, while the Shakespeare Seasonings range will make you feel like you're on holiday with seasonings such as Greek, Moroccan & Asian. We also have a large selection of South African seasonings including Marina Braai salts and Robertsons Spices, so take a look at the website and get creative!
https://bensbiltong.com/collections/seasonal-gifts
If seasonings and rubs are not your thing then I have a range of delicious BBQ sauces. I have some of the best sauces from across the UK, and further afield, including Pip's Hot Sauces, That Guy from SA, Steers, Mr Vikki's and Chilliscrumptious to name a few.
We all know cooking outdoors can get messy, so I also stock a range of embroidered cloths and aprons. These are themed around cooking on a Braai and make a great gift for a South African Expat.
https://bensbiltong.com/collections/seasonal-gifts
I'm always on the hunt for more BBQ and Braai related products so keep an eye on the website for updates. Also, if you use some of my BBQ & Braai products then don't forget to tag me in your photos on social media. I love seeing how you've used my products in your cooking!
---